Q: My flooring retailer told me I have nothing to worry about because their installers use plastic and tape to contain/control the mess and the dust. I understand this is usually how it is done but does it really work?
A: The use of plastic and tape might be appropriate for a very small, confined area like a bathroom or closet. When taking the plastic down, it is impossible to avoid having a large portion of the dust on the plastic introduced into the air within your home.
If installers attempt to remove larger areas of tile in your home, plastic and tape do very little to protect your walls, ceilings, furniture, closets, window treatments, electronics, etc. The DustRam® System is the best way to prevent dust migration since it captures it in the split second it is created. Our crews can remove tile from inside closets with the clothes still hanging and pantries with food still in them DUST FREE.
***The video below is a perfect example of what happens when you hire a contractor that uses plastic and tape.
Q: Why do Arizona Home Floors only remove and replace certain types of appliances and fixtures?
A: Arizona Home Floors will for a fee remove and replace standard types of toilets (reinstall with new toilet seals), standard electric stoves (not electric stoves with glass cooktops that hang over the countertop), small wine coolers (must be empty of all bottles) and standard refrigerators/freezers. Because of the difficulty and liability involved, under no circumstances will we remove or replace dishwashers, water heaters, specialty toilets, large gas stoves/ovens, built-in refrigerators/freezers, pedestal sinks, and free-standing cabinet sinks? We apologize for any inconvenience, but the Buyer will either need to hire a professional to move these items, or the Buyer themselves may move these items out of the work areas in advance of our arrival at their job site.
In the event these items are not able to be moved by the Buyer or a professional skilled in moving these types of specialty items, Arizona Home Floors will not be able to remove the flooring from underneath those areas. It is also impossible to chip away the flooring close to these items, and therefore our technicians will stop several inches or even about 1 foot away so as not to do damage to them. The installers or contractors who follow our work will be responsible for moving those items and removing the balance of any flooring found underneath.
Q: Why does the Arizona Home Floors contract not allow for other Landscapers, Plumbers, Electricians, Contractors, or Handymen to work simultaneously inside, outside, or around the Buyer's house?
A: Arizona Home Floors has a very large truck and trailer, which will take up the entire street in front of the Buyer's home once it has been parked. Numerous extension cords, trash buckets, grinders, chipping hammers, vacuum hoses, and other equipment are routed in, around, and through the house. It is dangerous to have other trades working at the same time because of the trip hazards present, and other tradesmen will slow our processes down. We also may have an additional truck with a dump trailer present and need adequate room in which to park and load the debris. Other tradesmen also will be making their own messes and we do not want our work areas cluttered with their debris and equipment, which again will slow our processes down considerably. As we also have several hundred thousand dollars in equipment on the trailer and spread out on the job site, we do not want other tradesmen to have access to or examine these when we are working. In order for the Buyer to have the best experience possible and for us to be the most efficient and productive, per our contract we require the Buyer to not schedule other Tradesmen or Handymen to work on the same day(s) as the ones we will be working.
Q: How Much Tile / Wood / Thinset Can You Remove In One Day?
A: The short answer is quite a bit, in fact, we have been known to remove a considerably larger amount of flooring than most companies in Arizona. Here are some examples of what we have removed dust free:
Ceramic or Porcelain Tile – Between 900 and 1,500 square feet

Slate, Sandstone, Travertine, or Marble Tile – Between 500 and 800 square feet

Saltillo Tile – Between 500 and 800 square feet

Flagstone – Between 600 and 800 square feet

Sheet Vinyl / Linoleum Removal – Between 1,500 and 2,000 square feet

Thinset Removal – Between 1,500 and 2,500 square feet

Engineered Hardwood Removal – Between 500 and 800 square feet

Laminate – Between 1,500 and 2,500 square feet

Microtopping (Epoxy Flooring Removal) – Between 1,200 and 1,800 square feet

Adhesive Removal (Examples Are Wood Glue & Carpet Glue) – Between 1,000 and 2,000 square feet
BEFORE DUST FREE TILE REMOVAL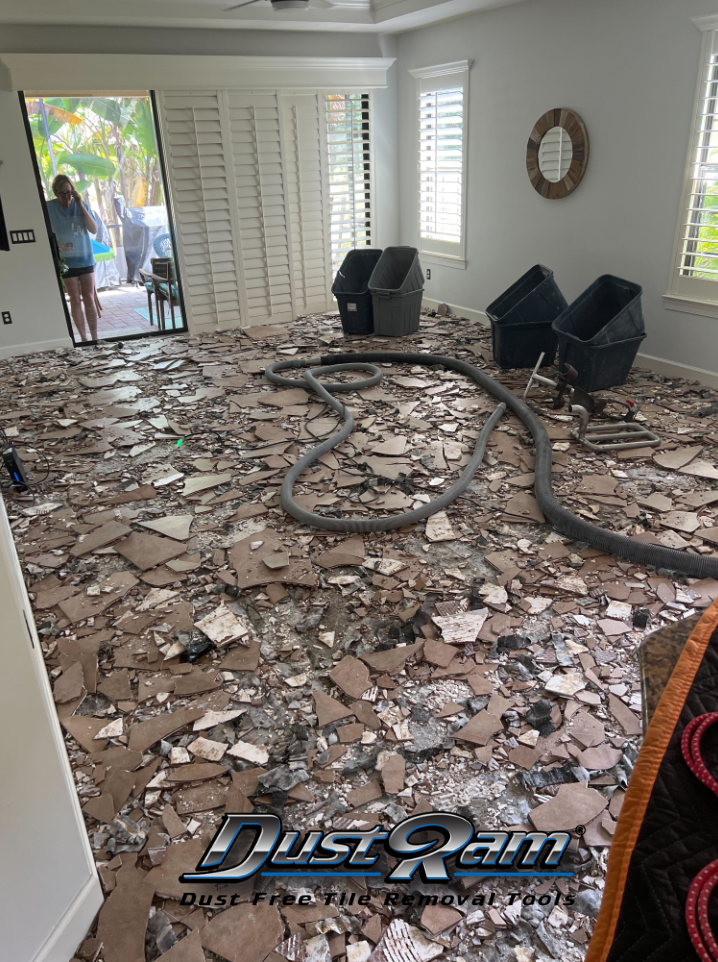 AFTER DUST FREE TILE REMOVAL
Q: I have heard about the DustRam® System of tile removal and was fascinated by the videos. What exactly is it?
A: The DustRam® System is made up of our proprietary, patented equipment (currently 6 patents with more pending), specially developed processes, and highly trained flooring professionals. The DustRam® System provides an incredibly fast and ultra-clean way to remove tile or other flooring materials, thin-set, coatings, or adhesives in your home. There is no need for plastic sheeting or tape for dust control. Our videos accurately depict the DustRam® System in action.
Q: I have never had tile removed before and I heard that it can be a really horrible mess. Is it truly that dusty and can it be avoided with the DustRam® System?
A: If you speak to any number of individuals who have had tile removed, the general consensus is it is worse than getting a root canal. Traditional methods of tile removal create unbelievable amounts of dust that permeate into all areas of your home. A typical 1,000 square feet of ceramic tile will produce about 600 or more pounds of dust. However, the DustRam® System provides for the removal of flooring material without the fear of toxic, dangerous silica concrete dust invading and overtaking every square inch of your living space by capturing it at the source.
Q: The flooring retailer I just went to said they offer free tile removal if I buy from them and let them install it. Is this a good deal?
A: Remember the saying "Buyer Beware." Some flooring retailers have special agreements with their installers that they have to remove the tile for free in exchange for getting installations. Therefore, these installers have no motivation to make any attempt to control the dust since there is no money in it. Speed is their only concern since they will only get paid for what they install, not tear out. As you might suspect, these installers usually do not remove all the thinset and may actually lay the new floor over inconsistent heights of the old thinset. Flooring installed this way has two big problems: it is not aesthetically pleasing, and it often fails in a short time. "Free" tile removal is often more expensive, time-consuming, and disappointing to the homeowner than doing it "Dust Free" with the DustRam® System.
Q: I have an occupied home I also use for my business and I am really concerned about all my belongings getting covered in dust, like the last time I had tile removed. Please tell me it is true you can remove the tile and thin-set dust free with the DustRam® System.
A: Absolutely! If you have any questions about the cleanliness of the amazing DustRam® System equipment to remove your tile, please take a few minutes to watch some of our videos showing how the equipment works.
Q: What type of homeowner or individual are the DustRam® System tile removal and floor preparation services designed to help?
A: The DustRam® System is most beneficial for those homeowners or individuals with health issues such as asthma, allergies, or other respiratory conditions, the elderly, and those who are health-conscious or discriminating about quality, workmanship, and value.
Q: My installer just found some flatness issues with my concrete slab and feels uneasy about continuing with the installation of my flooring. He thinks the problems can be fixed with concrete grinding alone. How do I know if this requires grinding or if a combination of grinding and leveling will be needed?
A: Arizona Home Floors has developed a unique and highly accurate process for determining high and low spots in concrete subfloors. This process involves using multiple straight edges of 10′ or more to assess the concrete, including lasers where necessary. To understand the complexity of determining the flatness of your floor, we recommend you watch the short video below to see why using a 5′, 6′, or 8′ straight edge to determine flatness provides inaccurate results.
Q: I just purchased my home and when I take possession, I would like to redo the floors while the home is still empty. Do I need the DustRam® System tile removal service?
A: Sure. Whether the home is empty or occupied, the DustRam® System can prevent very expensive damage to your concrete and central air handling system. With traditional methods of tile removal, outdated tools can actually cause severe concrete damage, as well as fill your air ducts and heating and cooling system components with a large amount of fine dust. In addition, your walls and ceilings will probably be covered with dust too. Professional cleaning is very expensive and this type of dust requires multiple cleanings. The DustRam® System has been designed to preserve the integrity of your concrete, capture all the dust created during the tile and thinset removal process, and protect your investment in your new home.
Q: I am an investor and I frequently buy and flip homes. Would the DustRam® System services be a good fit for me?
A: If you take pride in the quality of the properties you buy and are looking to increase their value to make more profit, the answer is yes. Besides removing tile dust-free, the DustRam® System removes thinset without damaging soft concrete, which occurs in about 40% of concrete. Your subfloors will also be dramatically flattened in the process so any new flooring installed is going to look much nicer to a prospective home buyer. You will also find that the installation of the new flooring is faster, more precise, and requires less thinset or adhesive, saving money on labor and materials.
Q: I am planning on staining or polishing my concrete after the old flooring has been removed. I may also consider installing hardwood, laminate, or large-format tile/stone. Is there anything I should know about that could affect the cost to do this professionally?
A: If your existing concrete slab has a condition known as "Soft Concrete," you could be faced with additional costs for major floor preparation. Below is a short video that explains this condition and what the concrete slab could look like after removing old flooring.
Q: As a re-modeler, I already have certain installers doing my tear-outs. Why would I want to change to AZ Home Floors which uses the DustRam® System?
A: The DustRam® System is perfect for remodeling projects you design and gives you a competitive edge over other re-modelers. Imagine the unique market you can now access – very particular customers, those with allergies, asthma, and other respiratory conditions, those willing to spend a little more money to have it done dust free. Many clients are unwilling to change the old flooring because they are aware of the harmful dust and debris created in the process. Offering the DustRam® System instead of traditional tile removal methods sets your business apart from the competition and creates endless possibilities. The time will soon come when clients will demand floor removal dust free and the DustRam® System will service these clients.
Q: I am a flooring installer and I hate to tear out floors. It is time-consuming and there is no profit in it. Can my customer hire you directly for tile removal or floor preparation services so I can stop doing tear-outs?
A: Yes! Since you are an expert at installing floors, you have recognized that we are experts at removing them with our DustRam® System. Not only will we remove the floors cleanly and quickly, but they will also be measurably flatter and better prepped for an easier installation. This will give your customer the best possible experience and satisfied customers will be more likely to refer you to their friends, co-workers, family, church members, etc. Changing your current business model to incorporate the DustRam® System will be one of the best business decisions you ever make.
Q: You advertise coverage in the Greater Phoenix area. What about floor removal projects out of town?
A: Depending on our scheduled projects, we will do work throughout Arizona until contractors in other areas can fulfill customer demand by purchasing the DustRam® System equipment. Projects in outlying areas may require additional charges to cover expenses but if you absolutely require dust free, please call us to discuss your project and the date when you are looking to have it done.
Q: I notice your website shows pictures and information about installations. Are you still installing and how does the DustRam® System fit into all this?
A: Arizona Home Floors specialized in high-end flooring installations for over 30 years although we now do strictly flooring removal. The photos show how well the floors turned out after installation and due to patents pending on the DustRam® System equipment, we choose only to show the finished results. Our videos show the process of using this state-of-the-art technology that developed over the years of doing installations. Flooring installation is no longer a service we offer, however, we have trusted partners for all types of floor covering installations we can recommend to you upon request.
Q: Does Arizona Home Floors, LLC record telephone conversations?
A: We typically record conversations from all Visitors, Customers, and Buyers who interact with Arizona Home Floors, LLC by either telephone or cell phone. These conversations are recorded for quality and fact-checking purposes, and those who contact Arizona Home Floors, LLC either by telephone or cell phone acknowledge they are providing us their permission to do so per our Privacy Policy.
Q: Do you offer free in-home estimates?
A: Please visit our main page (Book a Consult) to learn more about estimates, when they are needed in person, and what is involved.
BEFORE WE REMOVED THE TILE FLOOR
AFTER WE REMOVED THE TILE FLOOR
Q: My Home or Business was built in 1984 or earlier and I am concerned I might have asbestos in the flooring and possibly the adhesive. Who is responsible for determining if there is asbestos?
A: Some homes and businesses from 1984 and earlier could have or still may have flooring or adhesives that contain asbestos. It is impossible to determine simply by looking at the materials to know if they contain asbestos. Arizona Home Floors does not have the technology to test for asbestos. Should the Buyer be concerned about possible health risks associated with removing flooring or adhesives that may contain asbestos, then it is the Buyer's responsibility to hire a professional to test for asbestos PRIOR to Arizona Home Floors' arrival to remove their flooring and adhesives. For an online resource regarding asbestos in homes please visit www.ehso.com/cssasbestos/asbestosfoundwhere.htm We suggest you also search Google for "Asbestos Removal Professional in my area" to obtain a professional asbestos test IN ADVANCE OF OUR ARRIVAL. Buyer forever releases Arizona Home Floors from any liability associated with any possible exposure to asbestos and warrants their flooring and adhesives are determined safe to remove using our services and pose no health risks.
To see a video of our process for removing black adhesive click here.
To see a video of one of our methods for removing sheet vinyl click here.
Q: How much does dust-free tile removal cost?
A: The cost of dust-free tile removal is dependent on several factors. To get a free estimate, please contact us today by calling or filling out a contact form.
Q: How long has the contractor been doing just dust-free tile removal?
A: Compared with other companies, Arizona Home Floors created the dust-free flooring removal industry and started offering this service all the way back in 2009. We registered dustfreetileremoval.com in March of 2011 after we filed multiple patents for equipment.
Arizona Home Floors only offers dust free tile removal along with other types of flooring removal. We don't do the installation and we don't sell flooring. Many companies might claim they do everything, but we feel this is bad because when an employee leaves the company they have to be retrained on multiple positions instead of just one, meaning removal. Our crews have years of experience in just dust-free tile and flooring removal, Maryanne, our crew supervisor, has been with the company since 2012.
Q: What type of equipment does the contractor use for flooring removal?
A: This is of huge importance. Arizona Home Floors will never use a ride-on floor scraper machine because of the damage it can cause. We have been in countless homes where a company came out before us to remove tile or hardwood and used one of these machines. These machines were designed for large warehouses or huge commercial buildings, not for kitchens with islands and tight areas, but some companies choose to use these. Obviously, these machines create a huge amount of dangerous and toxic silica dust and all of the plastic and water in the world won't help.
Q: What type of vacuums is being used?
A: Arizona Home Floors uses a custom-made PulseRam vacuum that uses custom HEPA filters. This is the first and only vacuum in the world that was specifically designed for dust-free flooring removal and concrete grinding.
The vacuum tank is made of metal, these are very heavy systems, in fact, a single vacuum system costs nearly $13,000. You can reach out to DustRam® to inquire about the self-cleaning vacuum today
The patent for the PulseRam® vacuum can be found here:
PulseRam® Self Cleaning Vacuum Patent***
Other companies make vacuums that utilize a cheap bagging system, which uses plastic bags to hold dust. These bags can break if ruptured by a piece of debris and release a large amount of dust in a home or office.
Oftentimes, we find companies using cheap vacuums that are rated only between 150 and 250 CFM (cubic feet per minute) but Arizona Home Floors uses a vacuum with a 311 CFM motor, making it 24%-107% stronger, also, remember that these ARE NOT basic shop vacuums, but vacuums systems specifically designed for removing flooring dust free.
Ask other companies what model vacuum they use, they should be able to tell you, then do a search for the vacuum to see what the CFM count is.
The Basics For Tile Removal Cost (aka Tile Demolition Cost)
When you are looking for tile removal costs (aka tile demolition costs), remember price is not everything. You might pay only $1.00-$2.00 less per square foot by going with an illegal, unlicensed, and uninsured contractor, but what happens when have to spend $1,000 cleaning out your home, $400 cleaning your air ducts and maybe thousands of dollars repairing your floor before installers can even start their job, it's not worth the initial savings.
Considering that Arizona Home Floors can remove over 1,000 square feet of most types of tile dust free, why would you want to have another company come in and take several days to a week to do the job the traditional dusty way? If you don't mind nearly a pound of dust per square foot of toxic, lung cancer-causing silica dust filling your home, then dust-free tile removal might not be for you and you can skip reading this page about what to ask your contractor.
Here are a few questions to ask flooring removal companies and also some things you should keep in mind before you or someone you know starts calling around getting quotes for tile or flooring removal. Some of these are mainly for our Arizona customers but also something homeowners and contractors out of state should find out:
Is the contractor or company you are looking to hire for flooring removal

dust free

,

and if so, what are they using?

If they are not dust free, do they use a misleading term called

virtually dust free

, or do they simply do tile & flooring removal the old-fashioned way with a ride on machine or chipping

hammers?

How do they control the dust? There are two ways: Either capture the dust BEFORE it goes into the air or do they hang up plastic to try and control dust (

click HERE to see why hanging plastic is useless

)

and be sure to read the rest of the FAQs. A company that is dust free will not hang up plastic to prevent dust from getting into areas, it does NOT work because plastic ATTRACTS dust.

How do they transport the debris from the floor to a bucket or tote without making dust?

What method of tile removal do they use? Do they use water to try and keep the dust down?

Do they have vacuums attached to all of the

equipment?

Do they have videos showing how they remove tile and grind the floors to get them ready for new flooring? We have a lot of videos,

CLICK HERE TO SEE

.

Do they use a ride-on floor stripping machine?

See why this is a BAD IDEA in residential homes

.

If a company has this, avoid unless you don't mind possibly spending thousands of dollars in potential cleaning and floor repair costs. See the video link above to learn more.

Are either the contractor or the company

licensed, bonded, and insured

? (In the state of Arizona, an unlicensed contractor

cannot do any project over $1,000

per

Arizona Revised Statutes, Title 32, Chapter 10

,

but most contractors will break the law and do the jobs anyways since homeowners are not aware. If they quote you over $1,000 and they are not licensed, call the registrar of contractors and report them to their investigations department.

Has their license ever been revoked or suspended and if so, why? They have to tell you, or you can call the registrar of contractors, but then again, if they won't tell you, just call another company and don't waste your time. If their license is revoked, they can't do ANY WORK under that business name. You will be surprised as contractors with suspended or revoked licenses will still use their old number on contractors illegally.

Did you know that some businesses have their licenses revoked and simply change their business name creating a new entity? You can call the local registrar of contractors office and ask about a company and their entity name.

If they are not licensed, inquire as to why. Please note: Anyone claiming that they are or were

"Piggybacking" off another contractor's license is illegal in Arizona

and most states, and if a contractor is not licensed find out the real reason. If they dodge the question, it might be because they lack the credentials to become licensed, their credit is bad, they cannot obtain a bond or they feel they are above the requirements of the law.

Regarding insurance: Did you know if you as the homeowner or contractor hire an uninsured contractor, and they or someone on their crew is injured (example: falls, breaks wrist) at your home,

you are considered the employer

and are therefore responsible for paying medical costs. You could also be sued.

What condition are the floors left after the

thinset is removed

?

If a ride-on machine is used, make sure you see videos of what the floors look like at the end, fancy pictures are not enough.

Does the company have a

large selection of videos

showing different types of tile removal including complex removal such as

flagstone

or do they only show basic standard ceramic? A common practice to deceive the public is to show tiles coming up in whole pieces, which is unlikely to happen, but contractors show this so you think that this is easy work, it's not.

Does the company have any

customer testimonials on video

or just written reviews (which can be paid for) because the true sign of a good company is what are the customers saying?
Dust Free Tile Removal Services to be Looked at from a Common-Sense Perspective.
For many considering the remodel of their house or business, this will be the first time to experience what flooring removal such as tile, wood, sheet vinyl, adhesive and other types of flooring will be like. Those of you who have removed the flooring in the past realize it often is not as simple as it may sound. Even worse, the internet is filled with videos from those who claim they have found the "easy, simple" solution to flooring removal. The problem with this idea is they have oversimplified a task that at times can be very technically difficult. Granted some removal projects do exist, which are not bonded well and these tend to be the types shown in "how-to" videos. The fact is very few projects like this exist in real life, and those that do will still have a subfloor with poor bonding issues for your future flooring installation. Scraping floors to try and remove bond-breaking contaminants does not work and using chemicals to do this is dangerous. The very best way to remove contaminants such as paint, black adhesive, glazed and polished concrete finishes, wood adhesives, sheet vinyl glue, and other coatings is with a mechanical grinding of the surfaces.
We have many who contact us for dust free tile removal who believe there is a single piece of equipment, which breaks up the tile and "eats it" as it goes, leaving a clean floor behind. This is not true, as it takes a system of equipment to remove the tile, manipulate the debris, and grind off the thinset. While some tiny pieces of debris, grit, and sand will make its way into the vacuums while breaking the tile in pieces, the majority of the larger debris is left loose on the floor until it is ready to be picked up manually by hand. We call this controlled demolition, and the DustRam® System Equipment we have (7 patents now and counting!) is very effective at capturing the dust as it is created, but common sense is required to realize that heavier grit and sand is generated from the removal process. A very small amount of the grit and sand (about the size of a grain of sand or pepper flakes, which do not cause any damage) does fall onto the horizontal surfaces such as countertops, window ledges, and other similar places, depending on the location of where the flooring is being removed. For this reason, we ask our Customers to completely remove items from their countertops and other horizontal surfaces in the areas we will be working to allow us to clean the grit and sand easily. At different stages of the removal process, we will wipe off the grit or sand with a soft, damp microfiber towel to remove them without causing any damage to your surfaces. We will also be on the lookout for pre-existing dust or lint you may have in the areas we will be working in. We typically try to wipe off the tops of refrigerators, freezers, ceiling fans (if they are low enough to reach), tops of door frames, shutters, or other items to ensure we leave your home or business cleaner than we started. So if you see us wiping down surfaces it is because we are either removing sand or grit from those surfaces or we are trying to clean parts of your home that might have pre-existing dust.
There are a couple of occasions when an extremely tiny amount of dust may be created when the flooring is loosely bonded or if there is a soft concrete subfloor, which has been overwatered during the pouring phase when building the house. Flooring such as tile or stone, which is loosely bonded will begin to vibrate several feet away from where the chipping hammer is located and the grout in the joints will start rubbing the tile and produce a tiny amount of dust. The amount of dust produced when dealing with loose tile or soft concrete and using the DustRam® System equipment is so minimal it is often never even noticed during the removal process. However, since we can not control if loosely bonded tile exists or if there is a pre-existing condition of soft concrete, our contract does state there remains a slight possibility of dust. We do promise though this dust will be cleaned before the final job is through and your home will be cleaner once we have completed the final cleanup. To put this in another perspective, any dust that may have been created would not fill up even a tiny thimble.
When we set up equipment at your home we will typically need to bring the equipment into your home from the front door. Some of this equipment may end up outside on your back patio, some might be in your garage, and some might be located near the front door of your house. We often work simultaneously in up to 6 different areas and it is because of this we are able to complete up to 1600 sq. ft. in one day. This is also why we can not work with furniture on the floors located in the areas for removal. Moving furniture from side to side drastically cuts down on our removal rate, and so, for this reason, we have our Customers already have the furniture moved from those areas prior to our arrival by placing these in the garage, a POD, bedrooms, or other areas not having the flooring removed. Using this strategy also reduces the chances of damage to furniture and other items because they are not being moved repeatedly over and over during the removal process or installation. The overall project is also completed much faster because the Customer is not playing the "furniture shuffle game" and often can shave days off the project, so the Customer can have their items moved back in a much shorter amount of time.
We also would need adequate space in which to park our large truck(s) and trailer(s) in front of your home or business. We normally do not and can not park in a driveway because of the size of our vehicles.  This is why we ask our Customers to have their vehicles moved from the driveway before we arrive so we do not block them in.  Customers should either park across the street or park far enough away to allow our vehicles to easily and properly pull in front of their home or business.
Why We Require "Minimal" Footage Amounts to be Supplied by a Flooring Store, Designer, Installer, Contractor, or Homeowner?
Below is Our Business Model, Written Into Our Demolition Contract.
(1) ARIZONA HOME FLOORS, LLC BUSINESS MODEL – PLEASE READ!
We are making every attempt to be transparent and do not want you to have any surprises during your project.  Thank you for your understanding!
(1a)  Arizona Home Floors, LLC: the SELLER (may also be referred to as "Company," "Us," "Our," or "We") has a specific type of business model it follows, which any potential Owner/Entity/Agent/Designer/Flooring Store/Contractor/Installer: the BUYER (may also be referred to as "Their," "They," "Your," "You," or other such terms) should be made aware.
(1b)  We cannot enter a contract with any Buyer or any entity unless they are a legal owner of the dwelling or business; or subcontracted through a Licensed, Bonded, and Fully Insured Contractor/Designer.  If we agree to a subcontracted project(s) through a licensed, bonded, and insured Contractor/Designer, then the following guidelines will apply: (1) We require an initialed/signed DustRam NDA by the Owner, CEO, President, or Principal of the company (please visit https://www.dustram.com/nda/ to complete this digitally).  (2)  The first two projects with a new Contractor/Designer will require payment of the initial Contract amount in full at the time of scheduling their project to reserve their date(s).  (3)  The Contractor/Designer or their agent must be available for final inspection of the premises at the time of completion, and to sign a BUYER ACCEPTANCE OF PROJECT COMPLETION form.  (4)  At the final inspection, provide a final payment with a check or cash for any remaining balances for any additional work required during the project; final payments made with a credit card will be subject to a 5% convenience fee (see Section 15 for full details concerning payments).  (5)  After completing two projects in this manner, then future projects will be contracted at 50% down, with any remaining balances paid within ten days.
(1c)  Since 2008, Arizona Home Floors, LLC, and DustRam, LLC, is in the process of developing the dust-free tile demolition market and securing the patents for its Equipment.  These new developments have led to significant changes in the services Arizona Home Floors, LLC, once provided.  We no longer sell flooring, install flooring, or prep subfloors.  The scope of our services is limited strictly to the demolition of various types of flooring and profiling using the DustRam® System.  We require Flooring Stores, Designers, Contractors, and Installers to provide the necessary minimum amounts of flooring demolished without Arizona Home Floors, LLC going first to the project address to measure.  You will either need to provide your initial measurements, be working with a professional who can supply us with this information, or hire us to estimate your project if we have available time to do so.
(1d)  As of Monday, January 7, 2019, estimates are on a case by case basis.  We cannot measure every flooring demolition project, and in most cases, an estimate is not necessary if the project is relatively standard.  We write up 99% of demolition projects with minimum square footage for demolition based on measurements provided by a homeowner, the homeowner's contractor, or a number that is in the range of both.  With the advent of the internet and websites like Zillow and Redfin, photos are available online for most homes, and if not, pictures can be emailed or texted for our free phone consultation.
(1e)  IF we are able and have time in our schedule, we can provide an accurate onsite measurement (top layer visible measurements only) with a non-refundable $500.00 consultation fee paid in advance by credit card.  The full amount of this fee will be applied directly to the Buyer's project should they decide to hire us at some later point.  Most onsite consultations usually take a minimum of 3 or more hours, assuming 1 1/2 hours or more of drive time and 1 1/2 hours or more for the consultation.  Furthermore, an onsite measurement does have its limitations and will only reveal basic information about the Buyer's project on what is visible to the naked eye.  However, it will not show hidden issues that can and do affect future LEGITIMATE unknown charges.  Unknown extra charges such as crack membrane removal; hidden layers of sheet vinyl, tile, backerboard, black adhesive; baseboard, cabinet, or trim on top of the flooring; including other such items are not able to be determined until after the Buyer has officially hired us to perform their project, and work is in FULL progress.  Again, even with physical measurements taken by us at an onsite consultation, once the project has started, there are still LEGITIMATE unknowns that might increase the overall cost of the completed project paid by the Buyer.
(1f)  Since many projects are usually time-sensitive by nature and to avoid lengthy delays, we gather information from the Buyer about their project to arrive at "minimum" amounts of flooring or other materials to be demolished, on which to base the first Estimate and Contract.  These estimated amounts provided by the Buyer become the "minimum" amounts written into the first Estimate and Contract.  An Estimate and Contract will be provided to the Buyer for their signed and initialed approval to hire us officially.
(1g)  Since nearly every project is prone to hidden, or unknown extra charges, gathering all the pieces of information CANNOT take place until you officially hire us, and the work is in FULL progress.  Attention Buyer:  We charge flooring and material demolition on a "per layer basis."  When other layers, materials, or other factors become revealed, they will be added to the existing Estimate to complete its accuracy.  For us to arrive at truly accurate measurements, areas for demolition or profiling are sectioned into smaller squares/rectangles to eliminate walls, cabinets, showers, tubs, or other areas not representative of the actual square footage demolished or profiled.  Depending on the size of your project, it may take 2-5 hours for us to receive the correct measurements from our head technician.  Using an electronic measuring device or standard tape measure, we round any measurements exceeding increments of an inch up to the next full inch.  FOR EXAMPLE:  A measurement such as 5′ 4 1/4″ x 7′ 6 1/2″ would be rounded to the next full inch and would be used as 5′ 5″ x 7'7″ to figure the square footage.  Again, depending on the size of the project, it may take several more hours or possibly days to discover any hidden crack isolation membrane, subfloors, sheet vinyl, black adhesive, or any other additional costs initially hidden from view at the start of the project.
(1h)  Please note the "minimum" amounts will not be decreased but increased should the actual measurements prove to be higher than the minimums established.  On the day of the project, and after work is in full progress, our head technician will collect exact measurements and send them to our administrative staff for accurate calculations.  Measurements that fell below the "minimum" amounts would remain at those amounts listed on the original signed and initialed Estimate and Contract, and we add any measurements above the "minimum" amount to become a newly revised Estimate.  The Buyer must provide a realistic upfront estimate of square footage.  Inaccurate, dishonest, or misleading information, whether on purpose or by accident, provided by the Buyer could result in much higher than expected costs at the end of the project, and the Buyer agrees to be financially responsible for those additional costs if there should be any.  The Buyer must be forthright, accurate, and honest when establishing the minimum square footage amount(s) to help prevent drastic increases in the footage or other amounts once the project has begun and exact measurements were taken.
(1i)  To sum up, we are not responsible for inaccurate measurements or estimates of square footage provided by the Buyer to establish minimum footage(s).  The Buyer is aware that depending on the severity of misinformation on their part, the footage(s) can increase significantly and drastically impact the cost.  The Buyer understands that Arizona Home Floors, LLC if hired, is to remove the flooring according to the designated areas listed on the Contract, even if the estimated footage(s) provided by the Buyer proves to be drastically inaccurate.  This inaccuracy on the part of the Buyer can result in significantly increased costs, which the Buyer agrees to pay.
(1j)  Once again:  The Buyer agrees to pay additional legitimate expenses, including those incurred as a result of drastically increased footages due to accidental or intentional misinformation provided by the Buyer.  The Buyer agrees it IS NOT an option to have us arrive at the home or business with the equipment and crew ready to start work but first wait to take measurements of the areas before the Buyer decides on whether or not to move forward with their project.
Contact us today if you have any questions, comments, or concerns. If you would like more information about our dust free tile removal services, get in touch with our team. We offer free quotes.