Why Indoor Air Quality Matters in Tile Removal Jobs
Crystalline Silica Dust Edition
The EPA "Environmental Protection Agency" has gone on record stating that indoor pollution can be around 2 to 5 times higher than what you are faced with outdoors. Unfortunately, indoor pollution can go as high as 100 times more than expected. Needless to say, it can be very damaging and dangerous to leave your indoor air quality unchecked. 
Unfortunately, staying outdoors isn't possible for most with modern-day lifestyles. The majority of people work indoors and spend more time in their homes especially now more than ever with remote work on the rise. Because of this, you need to be proactive in maintaining good air quality within your home. Follow along with Arizona Home Floors, for the inside scoop!
Visit the Blog For the Latest News and Trends

Why Indoor Air Quality Is So Important
Outdated Tile Removal Methods Expose You to Silica Dust
The air quality indoors can have a significant impact on your health. It can positively or negatively impact your health and well-being. Because we spend most of our time indoors, having access to high-quality and clean air can keep you from compromising your health. When you are exposed to poor air quality and harmful pollutants, it can damage your health in a variety of ways.
Here are reasons why maintaining clean indoor air quality is vital:
1. It Helps Keep Diseases At Bay
The unfortunate truth is that exposure to poor-quality air is linked to a range of different health problems and complications. It can negatively impact your immune system function, respiratory system, and more. Maintaining good air quality indoors where you spend significant amounts of time is essential to protect yourself and your family from prolonged exposure to pollutants that can cause different types of diseases.
2. Enhances Your Quality of Life
It doesn't matter if you call your home your office or if you just spend time in your home relaxing after work, you want to have fresh and clean air flowing throughout. This is one of the best ways to enhance your quality of life while you are at home. Access to high-quality air is not only going to improve your mental clarity, but it can improve your sleep, help you relax, and much more.
What Can Causes Air Pollution Inside Your Home? 
For the average American household, you will have to be cautious of VOCs, nitrogen dioxide, radon, lead, mold, mildew, particles, and more. If you have an older house, you may even have to worry about asbestos. Every pollutant can be detrimental to you and your family's health. 
This is especially true when it comes to long-term exposure.
When you are completing a residential renovation like a retiling project, there's much to be concerned with when it comes to your indoor air quality. Any construction project can result in an influx of indoor air pollution. Even with tile removal projects and the resulting crystalline silica dust that is created during the floor chipping process. 
Exposure to crystalline silica dust is extremely dangerous because it is known to cause different respiratory-related diseases.
Types of Tile Flooring in 2022
What Exactly Is Respirable Crystalline Silica?
Crystalline silica is known to be the material found in various construction and building materials as defined by OSHA. Some of the materials you will find it in include:
Stones

Concrete,

Ceramics

Tiles

Mortar

Bricks, and more.
While it's generally safe to interact with the mineral when it's a mineral composition, when it is transformed into & released as dust, exposure can become dangerous. When in dust form, they can cause major issues to the respiratory system. 
When a retiling project is underway, the old tile must be ripped out which results in the dust being spread around the home. This is especially true when the appropriate tools and equipment aren't being actively used and outdated floor removal methods are being exercised.
The United States Department of Labor estimates that around 2.3 million people end up getting exposed to this type of dust every single year. The number is so high because there are several types of construction and renovation projects that can create crystalline silica dust.
Mostly all building materials produce crystalline silica dust and any project that requires these materials to be cut, sawed, drilled, crushed, or ground will create dust. Unfortunately, exposure to dust isn't easily preventable and the dust is also difficult to see due to its microscopic size. Silica dust is 100x smaller than a single grain of beach sand. 
DustRam® Contractors Keep You Safe
This is why hiring DustRam® certified contractors for flooring removal is important. We have a patented system that allows for the removal of floor while filtering and capturing the dust at the source. This innovative system is one of a kind and the only one in the world that can capture silica dust at a rate of 99.99% every single time.
Some Health Problems Associated With Indoor Pollution (Including Crystalline Silica Dust)
Both health professionals and scientists agree that it's important to maintain high-quality air indoors. Bad indoor air quality may cause short-term symptoms, but long-term exposure can cause the development of serious health complications and diseases. 
Silicosis and Other Respiratory Diseases
When it comes to being exposed to crystalline silica, you ultimately risk developing silicosis. This is unfortunately an incurable condition that can be detrimental to your lung health. It can cause a significant reduction in your lung's capacity to take in oxygen. It can ultimately result in permanent damage to your lungs.
Because the particles are so tiny, when they get trapped in the lungs, they can cause severe and progressive inflammation. This can result in scarring of the lungs which has the potential to be fatal. Chronic silicosis will typically take some time to fully set in. Some of the common symptoms of chronic silicosis include:
Persistent cough

Shortness of breath

Chest pain

Fatigue and more
Exposure to Silica and Your Health
According to the Centers for Disease Control and Prevention (CDC), exposure to crystalline silica can lead to Silicosis and can cause many other health problems including kidney disease, autoimmune disease, lung cancer, and even Chronic Obstructive Pulmonary Disease (COPD).
As you can probably conclude, it's essential to avoid all of these issues associated with exposure to crystalline silica dust. It can be highly dangerous and at times fatal. This is why you want to take proactive steps toward ensuring your indoor air quality is never compromised. This is especially true when you are looking to get home renovation projects done including flooring removal.
Dust Free Tile Removal & How it Works

Benefits of Choosing Dust Free Services For Your Floor Removal Project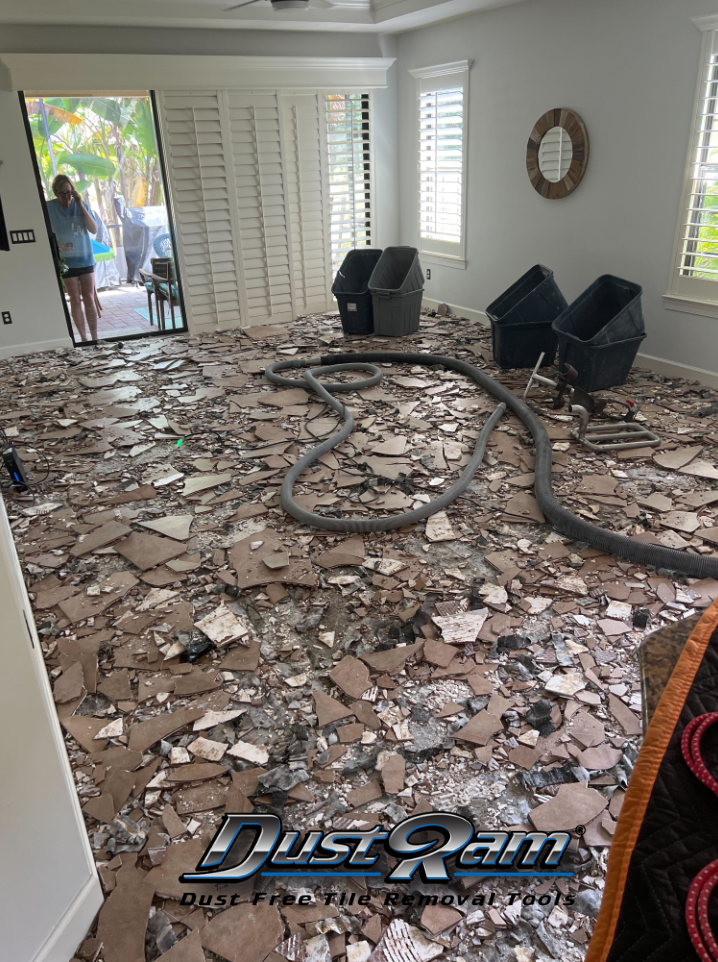 We have a primary objective to assist our clients in removing tiles without exposing you to harmful dust. Arizona Home Floors, a DustRam® certified contractor, uses the best tile removal system in the world and there are many benefits tied to this such as:
1. Dust-Free Results; No Dust Exposure
The primary benefit associated with our superior tile removal process and technology is that it's dust-free. The traditional method of removing tiles, on the other hand, is extremely inefficient and it releases the dust back into the air. Our dust-free method is more effective because we capture 99.99995% of the crystalline silica dust that is produced during the floor removal process. 
To fully achieve a dust-free removal process, we utilize a system that has powerful suction that suctions the dust at the root source. When you hire a DustRam® provider, you can bank on having good air quality even upon the project's completion. You will have air quality that is 50x better than what's permitted by OSHA silica dust limitation standards.
2. Healthy Indoor Space and Air
A benefit of our removal system is the fact that it does not compromise your air quality. Our system was designed in 2008 to capture the dust to protect workers and families from exposure. Dust is never released and permitted to flow freely in the air because our patented vacuum sucks up the minute dust particles the very moment they are created on the job. You won't have to worry about dust ending up in your ducts, vents, pantry, clothes, shoes, ceilings, walls, or in anyone's lungs.
3. OSHA Compliant
When you hire a tile removal company, you want to ensure they are adhering to compliance standards. Our system and process are fully compliant with OSHA standards. We are the only company that has air quality tests to prove that we are in fact a dust-free solution to tile removal. No other company has air quality results so they cannot know for certain the quality of the air in your home after the job is done. DustRam® guarantees a dust-free result at every step of the tile removal process.
4. Cost Effective
We utilize a dust-free process with equipment that allows us to offer cost-effective tile removal. Our team gets the job done right the first time. We remove the tile floor and capture 99.99% of the dust leaving your home much cleaner than when we first arrived. 
We also provide top-quality floor preparation to make the installation easier and better when you lay the new floor. Our team grinds down thin-set, glues, adhesives, tack strips, and leaves the concrete subfloor smoother and flatter for better adhesion and floor bonding to the new floor. 
Nobody else provides such high-quality all-in-one service. You won't incur cleaning costs in an effort to remove the dust or medical bills from the development of respiratory diseases as a result of exposure to the dust. DustRam® contractors are the only dust-free providers in the world.
Dust Free Tile Removal & How it Works
How Our System Ensures Your Tile Removal Is Free of Dust
We utilize the most advanced technology and the best process to ensure that the tile is removed 99.99%  dust-free. Our system is built with over 26 US patents on tools and equipment, all playing a role in the quality of the tile removal job. Our American Made system is better, faster, and cleaner than any other in existence. 
– High CFM
We utilize a patented vacuum system that is the very foundation of the dust-free removal process. It's what allows us to achieve such high efficiency with our removal. Our DustRam® sits at the chisel and suctions the silica dust immediately at production, leaving no room for the dust to ever go airborne. Our automatic-self cleaning vacuum is one of its kind and has its own patent.
– No Need For Manual Purging
With traditional and virtually dustless tile removal systems, you have purge the filters by hand. This would need to be done to ensure it works properly and so it can continue to suction dust but during the purge, dust is inevitably released and escapes back into the air. However, DustRam®'s system doesn't require any manual purging because the system cleans itself automatically every 5 seconds. DustRam® doesn't have to wait for the vacuum to get clogged to realize the system needs to be purged (which decreases suction force and exposes it to dust). Our system is immune to this inherent flaw because it is automatically self cleaning. This ensures you don't get exposed to the inadvertent spreading of dust.
We utilize military-grade equipment that collects the dust at the extraction point. The majority of systems in the marketplace do not do this. Our equipment is designed to capture the dust preventing it from ever going airborne. This keeps our workers, families, and pets safe from silica dust.
Conclusion
Your indoor air quality is vitally important to your family's health. Never compromise the short and long-term safety of your family when you are looking to hire someone for a retiling project. You want to choose a team that is aware of the dangers of air pollutants like crystalline silica dust and that is proactive about taking the proper steps to protect you from it. Watch our dust-free tile removal videos of past projects.
References:
[1] https://www.cdc.gov/niosh/topics/silica/risks.html