Carpet Removal Service & Dust Free Grinding in Phoenix, AZ
Looking for carpet removal in Phoenix, Arizona? Look no further than Arizona Home Floors! Let's face it, there are many companies in the United States that perform both traditional removals of carpet and the more difficult glued-down carpet flooring, but how many of them can grind or profile your concrete or wood subfloors? What does profiling mean in the context of subfloors? Not many, in fact, most companies don't even like to show videos of the methods they use to prepare floors because of the dust created. There are regulations about silica dust exposure that we take very seriously. Some companies don't do anything to protect their workers or the homeowner, but at Arizona Home Floors, that is never the case. Learn more about our carpet removal services and process.
CONTACT INFORMATION
Arizona Home Floors
947 S 48th St Ste 121, Tempe, AZ 85281
Mo-Fri: 7 AM–4 PM
Sat-Sun: Closed
Get Your Carpet Removal Project Estimate
Other Flooring Services We Offer:
Speak with a Professional
Why You Should Choose Our Carpet Removal Services
Quality Floor Preparation Work
Profiling is the complete removal of protruding staples, nails or screws, paint, varnish, adhesives, and other contaminants by mechanical methods, thus ensuring a flatter and more bondable surface. This type of floor preparation is superior to any chemical removal method in existence.
Check out our video showing examples of profiling concrete subfloors to remove paint and other contaminants. This is vitally important, especially if you are gluing or adhering a new floor to the surface.
Technologically Advanced Tools
As you can see, underneath the carpet in some homes you will find an abundance of nails, especially when the carpet is removed over stairs, a basement, or in an upper floor. It's important to have the staples removed before putting down any material.
You might be thinking that removing carpet and pad should not be dusty but, the process can be quite dusty, especially when removing the tack strip. In the following video, we'll show you how we are able to remove all of the tack strips without filling the home with any concrete silica dust. The dust is captured by our PulseRam® vacuum system. Learn about our equipment by DustRam®
You Have Questions and We Have Answers!
We Remove Contaminants from Your Carpet
We profiling concrete subfloors to remove paint and other contaminants. This is vitally important, especially if you are gluing or adhering a new floor to the surface. For dustless flooring removal, contact us today.
Every installer and homeowner should be concerned with the condition of the concrete floors prior to starting the installation of tile, hardwood, plank, or vinyl flooring. If the concrete floors are not clean, there could be a major bonding issue and you could have loose or hollow-sounding tiles down the road.
Our team profiles wood subfloors to remove staples left over from the removal of carpet padding, thin-set removal, and other types of contaminants. Sometimes, installers guarantee the new flooring will last the lifetime of the homeowner, but they usually say this is only the case if the floors are prepared beforehand.
Our process enables us to remove your carpet or other floorings without exposing you to the dust.
Take a look at the smoothness of the concrete after our team ground down the subfloor.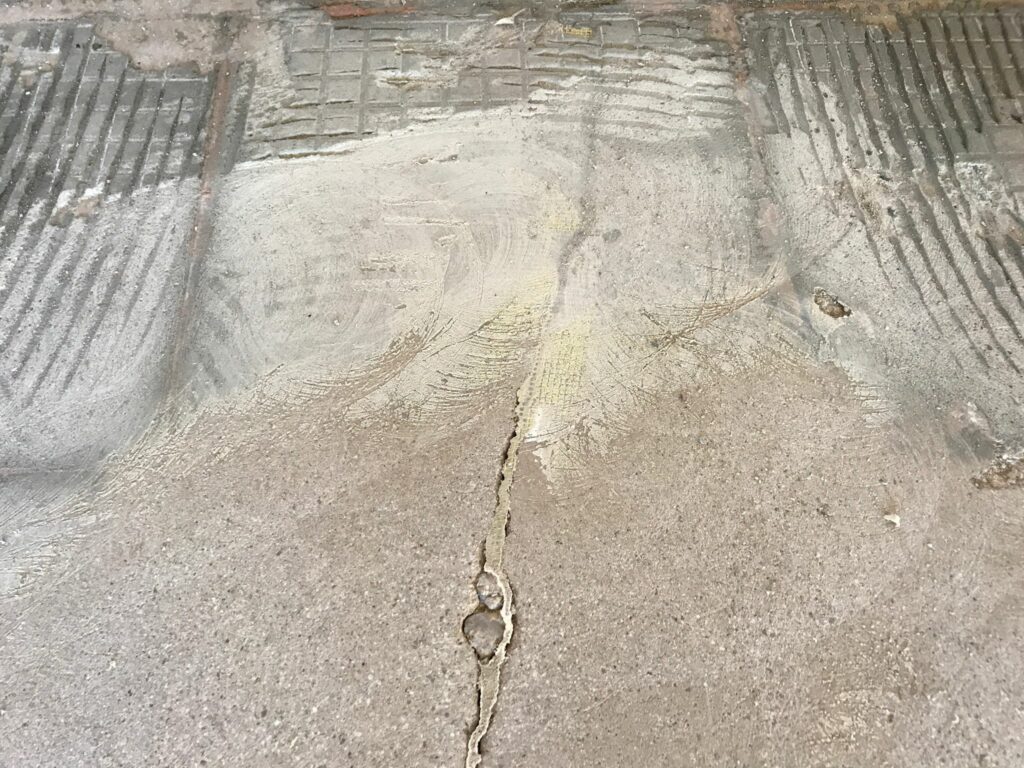 We leave your subfloor in pristine condition for your tile installation. 
Our Team is Available to Speak with You Today
A Better, Faster, and Cleaner Removal of Carpet
We at Arizona Home Floors are your go-to business for removing paint, glue, and contaminants from your formerly carpeted areas dust-free! We use the patented dustless DustRam® system of flooring removal tools to remove the carpeted flooring and get you back down to bare concrete. Arizona Home Floors removes your carpet, pad, and tack strip then grinds the floor, removing paint overspray, glue, and other contaminants. Your floors will be ground down (profiled) back to the bare concrete subfloor, removing hundreds of micro-high spots in the process. 
You might have been searching for how to remove carpet because you would like to do it yourself. There are carpet floor removal services all over the Phoenix metro area, but how many have a dust-free system like the DustRam®? Only Arizona Home Floors. We remove the carpet padding, tack strips, and nails and can get you back down to a clean and bare concrete subfloor. In over 95% of cases, your formerly carpeted area is now ready for new flooring.
Don't waste time having your carpet cleaned or stains removed when you can just replace your old carpet with new tile or even a new carpet that is more modern looking. The cost to remove carpet is determined by several factors, but overall, it's inexpensive for most homeowners. Check out more of our project videos.
How Much Does it Cost to Remove Carpet?
The going rate for traditional flooring removal companies changes depending on what they are removing. Our team can give you all the information you need over the phone depending on where you live, what floors your carpet is on, and so on.
Please contact us at Arizona Home Floors today to get a quote on the complete package, which includes removing all your carpet, pad, and tack strips as well as performing our concrete grinding or profiling service.
We Include the Disposal of Old Carpet in Our Price Quote.
By the time we are done, you might feel like you are standing on a brand new floor, without all of the dirt, soil, odor, old glue, gum, paint over-spray, adhesives, or pet urine stains from your cat and dog and contaminants built up over the years.
Traditional carpet removal companies can't match the speed and cleanliness of our DustRam system, they don't have our equipment. We can go over the average cost with you on the phone, you can also email us pictures if you are curious about what the cost will be.
Tips to Remember When Considering a Carpet Removal
Hire a Licensed Company to Remove Your Carpet
For most states, you will want a company that is licensed, bonded, and also insured, preferably, with an A+ BBB rating like our company.
Choose a Dustless Contractor ONLY
We use the right tools and the right machines to get the job done dust-free and fast. Learn more about our concrete grinding process and silica dust capturing tools. Our process uses no plastic and no water, unlike the other cheaper alternatives out there.
Know that Traditional Processes Don't Capture the Dust
Traditional companies cannot remove adhesives without creating dust, but with our patented dust-free DustRam® System, we can remove everything dust-free, from start to finish.