Dust Free Tile Removal
Experts
Certified DustRam® Contractor in Phoenix, Arizona
50X Below OSHAs Permissible Exposure Limit of Silica Dust
See The Best Floor Removal System
In Action
We Capture 99.99%

of the

Cancer-Causing Tile Dust

Are you searching for "tile removal near me?" Arizona Home Floors is a DustRam® Certified Contractor that removes commercial and residential floors, dust free. We get the job done 3 times faster and without exposing you and your family to the cancer-causing tile dust. 

We offer a wide range of flooring and surface care services but our specialty is dust-free tile floor removal. See our client reviews to learn more about our services and what we can do for you. 

Our services are 99.99% dust free and we are OSHA Compliant.

We provide top-quality flooring removal results and leave your subfloor flatter, smoother, and ready for the installation of your new floor.

Make your health a priority and hire Arizona Home Floors for your tile removal job. We are DustRam® Certified and protect you against the carcinogenic dust
Real
Customers

. Real

Reviews

.

David M
Phoenix, AZ
I used this dust free tile removal contractor to remove existing tile so we could install the new tile. Not only was I impressed, but the tile installer laying the new tile was impressed with the job Arizona Home Floors did in removing the old tile and prepping the floor for the new tile. Thank you, Jack and Maryanne.

Linda G
Phoenix, AZ
Highly recommend Jack and his crew! Timely and very efficient— everything they claim to be. Worth every penny!!!

Tuy D
Phoenix, AZ
I am very pleased with Maryanne and the crew. They are very professional and did an excellent job.

Kristie W
Phoenix, AZ
I just finished using Arizona Home Floors to remove my ceramic tile. The crew showed up on time, finished earlier than scheduled and did a fantastic job. It truly is a dust free tile removal system, and I could not be more pleased. Highly recommend them.

Gil P
Phoenix, AZ
If you're doing any home renovations and are going to be removing tiles call AZ Home Floors, their work came out clean and there's no exaggeration to the "dustless" claim. Fair warning, you can hear the equipment they use. They were on time, professional, and easy to deal with.

Michael S
Phoenix, AZ
I had Arizona Home Floors demo over 1,100 sq. ft. of tile removal in my home. They did an absolutely incredible job. There was not one speck of dust anywhere in the house. I was truly amazed. They cleaned up afterward and left my house spotless. Their crew was very professional, I couldn't believe the job they did. I would not hesitate one bit to recommend them and certainly would use them again. The office staff was also very helpful. They made me feel like I was their only customer.

Barry R
Phoenix, AZ
Amazing is the only thing to say. 450 square feet of tile up and out ground to the foundation. Perfectly clean in 3 hours. 1 0 stars to the crew that was here. This is not the least expensive way to go but well worth it if you want your tile removed quickly, efficiently and CLEAN!!!

Amy P
Phoenix, AZ
Just had my tile removed using Dust Free Tile Removal and had the best experience I've ever had. We had tile removed about a year and a half ago and have dust covering our whole entire house and it kept settling in all the rooms because the AC was on. Such a different experience with dust free tile removal I could not be happier with the results I highly recommend this company! I also want to mention that they were right on time actually a little early and so respectful of me and my property.

Steve C
Phoenix, AZ
Arizona Home Floors Dust-Free Tile Removal: Outstanding Experience After hearing horror stories about mountains of dust created by floor tile removal—and the cleaning costs to remove it–we were pretty skeptical that our floor tile—1600+ square feet of it– could be removed "dustless". When we called AZ Home Floors Dust-Free, we really grilled them about how accurate their website claims really are. After our experience, we're amazed and pleased to report their reassurances were, if anything, an understatement. They arrived early on the appointed day, came in like gangbusters, worked with impressive diligence and efficiency, and managed to get everything done in one day that they estimated would require two! To boot, their paperwork and verbal/text communications were equally impressive. It may cost you a bit more to remove tile with this method and leave no dust behind, but when you factor in the cleanup costs you won't have to pay, and the hassle you avoid, it probably comes out pretty even. Sort of a perfect example of that old proverb, "the cheapest is always the best", which translates to "if you choose the best service/product, in the long run, it's usually the cheapest way to go." We'd recommend AZ Home Floors Dust-Free Tile Removal without reservation.

Lara T
Phoenix, AZ
Arizona Home Floors was extremely helpful in making our tile removal easy, dust free and affordable. We hired them to remove thinset and they left our home dust free just as they stated they would. The crew was very professional and efficient. I would highly recommend this company to anyone who is looking for floor removal in preparation for new floors. Completely satisfied.

Lisa A
Phoenix, AZ
We used Arizona Home Floors to remove about 1,000 square feet of porcelain tile in August 2017. Maryann and her crew did an amazing job! She was on time, professional and so well organized. She had all the tile up in about two hours and the house was cleaned up and back in order by 2 pm. Just extraordinary! Highly recommend.

Kevin E
Phoenix, AZ
In a word, excellent. It really was dustless, they showed up on time and were wonderful to work with. I hope I never need them again, but if I do there would be no hesitation.

Stephanie B
Phoenix, AZ
Arizona home floors just removed all the tile in our house. This is truly a dust free service. There is no dust in the air while the tile is being taken up. No dust in the air when the tile is being picked up and put into Bins. When they were done our concrete slab was smooth and there was no thinset anyway. If you're considering removing tile in your home I would recommend that you call Arizona Home Floors.

Jerry J
Phoenix, AZ
If anyone is contemplating removing existing tile floors, there is no one else to consider but Arizona Home Floors Dust Free Tile Removal system. It is just incredible how clean, organized, and thorough these guys are. From set-up in protecting your woodwork corners to laying out the vacuum hoses to perfect removal, to post-cleaning is a sight to behold. They even wipe down the flat surfaces in the area including wiping down the cabinet doors inside and out. I would highly recommend Arizona Home Floors if you want no fuss, no mess. Great to do business with!

Chuck Y
Phoenix, AZ
I recently used the services of Arizona Home Floors tile removal service and I have to say it was a most impressive experience. The crew arrived at my home in Prescott right on time and immediately went to work setting up their equipment. These were 5 very hard working and cordial people. They removed, ground, and cleaned 1500′ of tile in just under 5 hrs time and no mess left anywhere. And especially, no dust! Great job guys and gals and a Thank You to Nick Giammarino for the superb coordination to pull this off.

Sherri R
Phoenix, AZ
Pleasant on the initial phone call. Thoroughly explained the process. Documents easily signed via the internet. Arrived on time. All employees were very professional. The job was completed early and the area was clean when they left. I will use this company on another project in the near future.

Carmen M
Phoenix, AZ
I have no words! I have been stressing over the removal of our old tile floor for over two weeks after we decided on the change. My husband is psychologically affected by the sight of dust. I had heard of dust free removal but didn't believe it would be true. AZ Home Floors came out after my tile installer had contacted them, and in 2-1/2 hours had finished………DUST FREE! They're so sincere in their promise, they not only wiped all the surfaces possibly affected 5 different times, they wiped off picture frames and blinds, window sills, and cleaned what little there was so well I can walk across the bare concrete floors from one room to the next without even leaving a footprint!!! I thought I'd be spending the entire afternoon and evening cleaning every corner, instead, I'm here posting. Jack King and his team were also polite, kind, friendly and a breath of fresh air. Thank you, thank you, thank you!

Steve S
Phoenix, AZ
Just had Arizona Home Floors remove about 1000 square feet of tile from our house and the result is awesome! Absolutely dust free as advertised. Everyone associated with this company was professional, friendly and courteous. They finished ahead of schedule and did a final walk through with us when finished. All the old tile and grout was totally removed and what was left was a floor ready for new tile. We loved the process and the results. We would highly recommend Arizona Home Floors to anyone facing tile removal.

Crystal P
Phoenix, AZ
Jack quickly came out and gave us an exact measurement and estimate and what the job would cost. I scheduled a date which didn't work so I had no problem calling and rescheduling they are very accommodating. The date they were scheduled they showed up at the time they were scheduled to start and they got to work right away. They worked hard for 11 hours, got the job done in one day, it truly was dust free.

John S
Phoenix, AZ
I had porcelain tile and glued wood floors removed and highly recommend Arizona Home Floors. The estimated area matched my own measurements, the technicians arrived on time and the finished project was as smooth, clean and dust free as advertised. The time and effort saved simply by not getting rid of all the debris and having to vacuum and wipe every surface is worth every penny of the cost versus other alternatives. Honesty and accuracy matters and Arizona Home Floors is both.
Why Choose

Arizona Home Floors?
Our Company is Certified By the Inventor of the Dust Free Method & Technology
To give you some ideas of the speed and efficiency of our tile removal process, most of our flooring removal projects are completed in just 1 day! This is 3X faster than other contractors in the industry.
Our process is so clean, that no plastic sheeting, tape, or water is required to protect your home from dust.
Your indoor air quality does not change even as tile and thinset are being removed at unbelievable speeds. We also keep our vacuums outside the home, unlike our competitors that bring them inside.
Flooring can be removed from closets with clothing still hanging in them and from pantries with food still on the shelves without any dust exposure, ever!!!
There is no need to move out of your home, pay for multiple visits from a commercial cleaning service, or put off the removal of your floors any longer. We capture 99.9995% of the dust and contain it. Silica dust will never touch the air you breathe.
Our system also grinds the thinset down to the concrete slab and creates scarification which helps with better adhesion once the new floor is laid. We are known for our quality subfloor prep work.
We GUARANTEE IN WRITING your home will be cleaner when we leave than it was when we arrived. We have air quality tests that PROVE how dust-free we are! Numbers don't lie but other companies will!
Call AZ Home Floors today to book your dust-free tile removal: (602) 834-6567 we are here from 7:00 AM until 4:00 PM Monday through Friday. Get a free quote today, no need to keep searching for the best "dust free tile removal near me." We've got you covered.
Request Your Free Project Estimate
The

DustRam® System Captures Dust Before it Goes Airborne
1. +26 Times Patented Military-Grade Equipment
The proprietary patented DustRam® System is specially developed, military-grade equipment, rugged, and versatile enough to remove any type of flooring without any dust. The system consists of +26 patented & patent-pending devices that capture and contain the dust at the source, as it is being created and during every step of the removal process. We also have air quality tests that prove we are dust free. Our competitors don't. DustRam® invented the dust-free industry and our entire team is certified and factory trained by DustRam®. 
2. Our Advanced Technology is Faster, Cleaner, and More POWERFUL
Each tool is attached to a self-cleaning, triple HEPA filter vacuum now required by OSHA, to perform tile concrete floor projects. This technologically advanced floor tool not only eliminates dust from becoming airborne but also allows us to remove ceramic tile and other flooring materials more quickly and efficiently. 
The DustRam® System was designed for contractors whose customers are concerned about the danger of exposure to the vast amount of dust created during traditional floor extraction methods and maintaining the cleanliness of their homes. Silica dust
3. Outdated Floor Removal Methods Expose You to the Carcinogenic Dust
Outdated tools, floor scrapers, and floor removing methods create so much dust, that it can take months (or longer!) to remove most of it from your home. Our dust-free removal of tile flooring process protects you, your family, your home, and your belongings from dust contamination during the removal process.
4. A Cleaner, Healthier, and More Environmentally Friendly Process
Only the DustRam® System provides a clean, healthy, and environmentally friendly way to remove the tile and other floorings.  This information will help you decide if we are the right contractor with the best equipment to work with you.
Schedule Your Dust Free Tile Removal Job Today
+324% Dust Free According to OSHA Certified Field Testing Results
Our Floor Removal Services Are
DUST FREE

Not Dustless
Dustless is not the same as Dust Free when it comes to removing tile flooring. The dustless method filters 99.97% of the dust but doesn't capture sufficient amounts of it to be recognized as a dust-free service.
DustRam® certified contractors, on the contrary, filter the dust and capture AND contain 99.9995% of it. Filtering and capturing are not the same. Below are more reasons you should hire a DustRam® contractor such as Arizona Home Floors for the job.
1. Homeowners with health issues such as allergies, asthma, or other respiratory conditions. We are healthier and environmentally safer.
2. Residences with elder parents, babies, toddlers and children, pets, and anyone you love dearly are at risk of exposure using outdated methods. We protect you from the dust.
3. The home and valuable belongings are going to get exposed to the carcinogenic tile dust. You will inevitably need to hire professional cleaning companies to deep clean the home for months to years just to get rid of the dust. We prevent dust exposure from start to finish and that is our promise to you. No need for professional cleaning services or hospital bills.
4. Those who want to maintain the cleanliness of their home during the remodeling process
5. Anyone who appreciates the highest quality, the best value they can obtain for their hard-earned dollar
6. Concrete cutting and concrete trenching to provide access to underground utilities
Take a Look at Our Frequently Asked Questions

Our Dust Capturing Vacuums Self Clean Every 5 Seconds...
When it Comes to Flooring Removal
Every Second Matters!
We grind thin-set & scarify the concrete for better floor bonding during your installation process. Notice how the subfloor is smoother & flatter. This helps with prevention of future foundation issues in the structure of the property.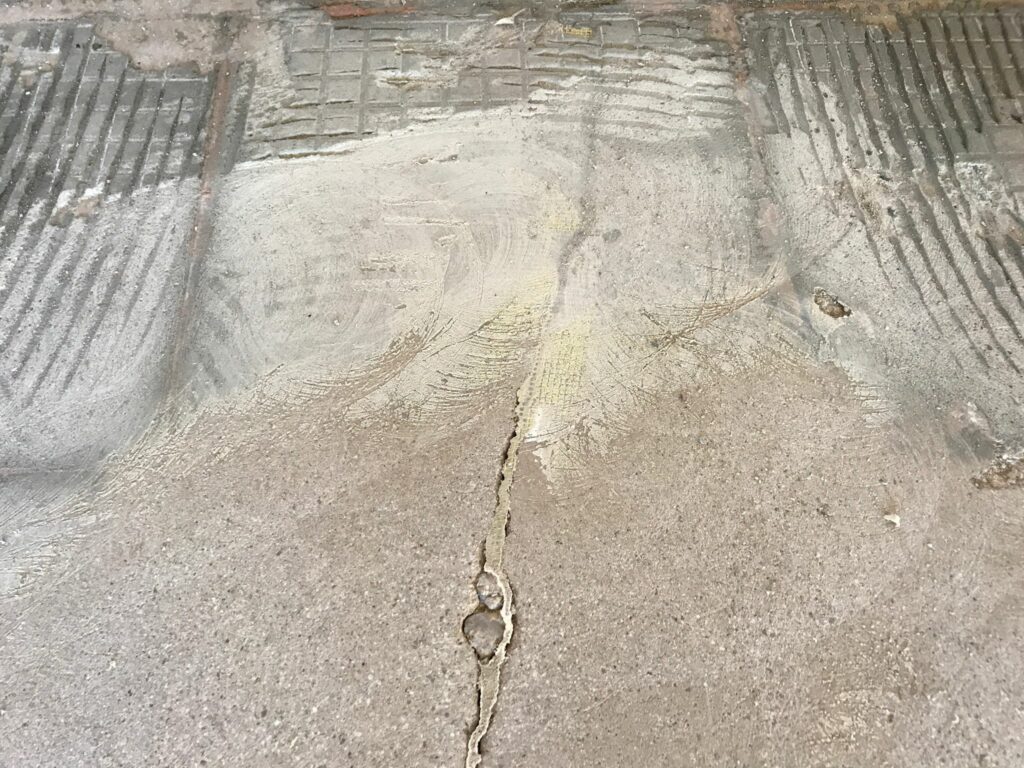 Our system efficiently removes tile, captures 99.97% of dust, and better prepares your subfloor for the installation. Don't compromise quality by choosing a cheaper service.
Contractors and companies without the DustRam® System Equipment lack our patented, state-of-the-art removal equipment, specialized training, and expertise. Our patented vacuums self-clean themselves and run at maximum air flow all day long. While dustless contractors have to wait to notice dust loss and then proceed with manually purging their equipment. These seconds are what differentiate a dustless service from one that is DUST FREE.
Please be on the alert for false advertising, misrepresented claims, poorly fabricated imitations of our products, and use of various terms similar to dust-free, dustless, low dust, virtually dust-free, no dust, clean tile demolition, or other scams that do not deliver what is promised. 
Even if a company claims their service is 98% free of dust, that means if your removal produces 500 lbs. of dust (about 500 sq. ft. of tile), then the 2% left behind is equal to 10 lbs. of dust that will contaminate and circulate throughout your home! Be sure to verify any claims of what results you can expect from any company claiming to provide clean or virtually dust-free tile removal by checking their reviews, asking for references, and checking if their license is current, suspended, or previously revoked under a different business name. Investigate further any customer complaints which may have been filed with the Arizona Registrar of Contractors.
Dust Free Thinset Removal Services
Once Your Floors Are Demolished Our Services

Also Include:
Referrals to expert no dust floor leveling and concrete leveling services for super flat floors
Referrals to expert precision 

surface preparation

to achieve the manufacturer's recommended specifications
Referrals to expert floor prep with dust-free 

concrete grinding

Referrals are trained experts that use the methods pioneered by Arizona Home Floors to scientifically 

flatten concrete

inside occupied residential homes to an incredible 1/16-inch in 50 linear feet, well above Industry Standards.
These accurate and detailed processes allow an expert to determine exactly what areas are too high, and using the DustRam® System Equipment, will grind those flat dust free.  Afterward, raise any low areas using an appropriate primer and leveler to create what is known as a "Super Flat Floor."
For additional videos and information on this amazing technique, please visit our 

Arizona Home Floors YouTube Channel

.
Our Tile Removal Team
Has Decades of Combined Experience
All DustRam® System Contractors are required to attend 3 Days of Hands-On job site training to learn the processes and proper use of the equipment before it is shipped to them for use in their business.
All of our experienced, highly trained, and courteous crew members have passed a drug test & background check, are United States citizens, and speak fluent English. Customer reviews frequently mention the hard work, dedication, and outstanding Customer Service everyone from our office to job site staff consistently provides to our valued clients.
To learn more about our services, or to arrange a Personal Consultation in your home, please call us at (602) 834-6567 or E-mail us today. Our Estimate Fee is fully refundable if you choose to use our services for your remodel project. If you live outside the state of Arizona, Find An Authorized DustRam® System Floor Removal Contractor In Your State Here.
Contact AZ Home Floors Today